Vegan Keto WholeFood Protein Smoothie Chocolate Blueberry
$29.45
Chocolate Blueberry
Paired best with blueberry and banana
Se marie mieux avec la bleuet et la banane!
Ceremonial Grade Organic Cacao
Cacao biologique de qualité cérémoniale

1B CFU Dairy Free Probiotics
1B CFU Probiotiques sans produits laitiers

50mg Vegan Collagen
50mg Collagène végétalien

1000mg Reishi Mushroom
1000mg Champignon Reishi
Nt. wt. 250g / 9oz.

Description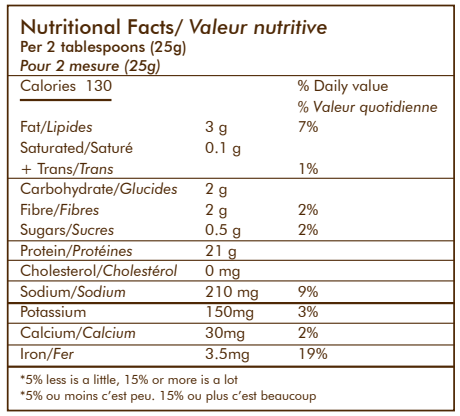 How To Use
Place 2-3 heaped tablespoons of powder into a blender to
make a smoothie. Mix with any vegan milk and fruit. The
Auraluv EatGoodFeelGood Wholefood Protein Powder
Smoothie can also be added to cooked oatmeal, pancakes
or baking products for added protein and flavour.
Ingredients
: Organic Brown Rice Protein*, Watermelon Seed Protein*, Hemp
Hearts Protein*, Organic Cacao Powder*, MCT Coconut Oil Powder*, Vit E
Tocopherols*, Coconut Milk Powder*, Ground Flaxseeds*, Psyllium Husk*,
Dandelion Root Powder*, Burdock Root Powder*, Fenugreek Seed Powder*,
Coconut Sugar*, Raw Vanilla*, Dairy Free Probiotics*, Açaí Berry*, Seaweed
Collagen, Reishi Mushroom Extract*, Blueberry Powder*, Pink Himalayan Salt*.
Sugars (Coconut Sugar)
What's Inside
21G. PROTEIN
PROTEIN BLEND
BROWN RICE PROTEIN &
HEMP HEART PROTEIN &
WATERMELON SEED PROTEIN
HAPPY BELLYTM
1B CFU PROBIOTICS
PREBIOTIC FIBER
GOOD FATS
HEMP HEARTS
MCT COCONUT OIL
GROUND FLAXSEEDS