SUPERFOOD LAVENDER CHOCOLATE TEA LATTE
$29.45
SUPERFOOD LAVENDER
Nt WT 240g / 8 oz.

Description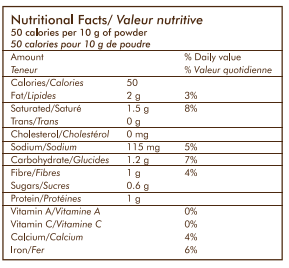 How to use
Add 2 or more tablespoons of keto chocolate tea powder into a blender with one cup of vegan milk and blend the mixture for 30
seconds. Pour the mixture into a saucepan and heat on a stove top for 3-5 mins until boiling while stirring. After boiling allow to
simmer for 2-3 mins then pour into a cup and enjoy!
Ingredients
Ceremonial Grade Cacao*, Organic Raw Cocoa*,
Coconut Milk Powder*, MCT Coconut Oil Powder*, Coconut
Sugar*, Raw Vanilla Powder*, Dairy Free Probiotics*, Açai Berry
Powder*, Reishi Mushroom*, True Cinnamon*, Vit E Tocopherols*,
Monk Fruit*, Lucuma*, Lavender*, Nutmeg*, Pink Himalayan Sea
Salt*
Sugars (Coconut Sugar)