EatGoodFeelGood Healthy Vegan Hot Chocolate Bag-Burnt Caramel
$29.45
Chocolate Burnt
Paired best alone with banana or strawberry or mixed together
Se marie mieux seul avec une banane ou une fraise ou mélangés ensemble!
Ceremonial Grade Organic Cacao
Cacao biologique de qualité cérémoniale

1000mg Reishi Mushroom
1000mg Champignon Reishi

1B CFU Dairy Free Probiotics
1B CFU Probiotiques sans produits laitiers

3g of MCT Coconut Oil Powder
3g de poudre d'huile de coco TCM

500mg Açaí Berry Powder
500mg de baies d'açaí en poudre

250mg Vegan Collagen
250mg de collagène végétalien
Nt. Wt. 200g / 7oz.

Description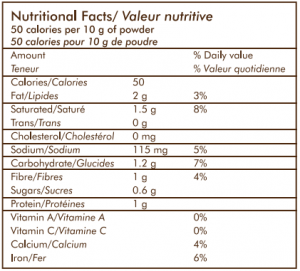 How To Use
Add 2 or more tablespoons of hot chocolate powder into a blender with one cup of vegan milk and blend the mixture for 30
seconds. Pour the mixture into a saucepan and heat on a stove top for 3-5 mins until boiling while stirring. After boiling allow to
simmer for 2-3 mins then pour into a cup and enjoy!
Ingredients
Organic Cacao Powder*, Coconut Milk Powder*, MCT Coconut Oil
Powder*, Vit E Tocopherols*, Coconut Sugar*, Raw Vanilla*, Monk Fruit*, Dairy
Free Probiotics*, Açai Berry Powder*, Vegan Collagen*, True Cinnamon*, Reishi
Mushroom Extract*, Natural Burnt Caramel Flavour*, Pink Himalayan Salt*.
Sugars (Coconut Sugar)